I just finished harvesting my radishes and cabbages because it is starting to go below 0 at nights.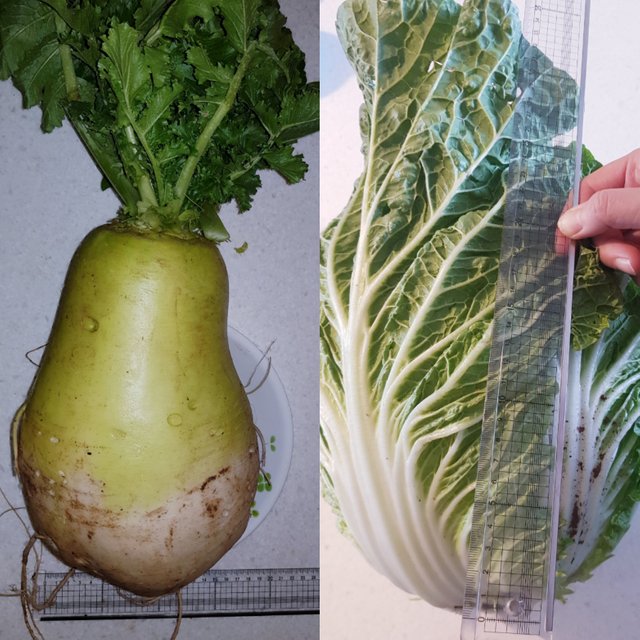 Everyone in the community garden said "My oh my! You've got the biggest radishes and cabbages."
I don't mean to brag (that's exactly what I mean) or anything, but I'm damn proud of these big guys.
Giant Radishes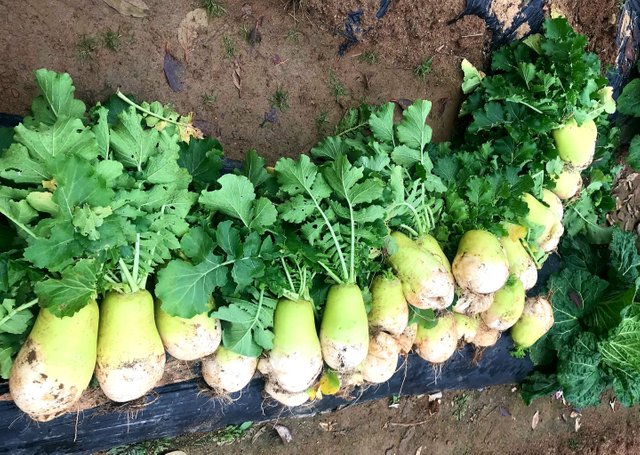 Here is most of my harvest
Korean white radishes are a variety of the daikon radish called 'Mu' (무). As you can see they grow quite big.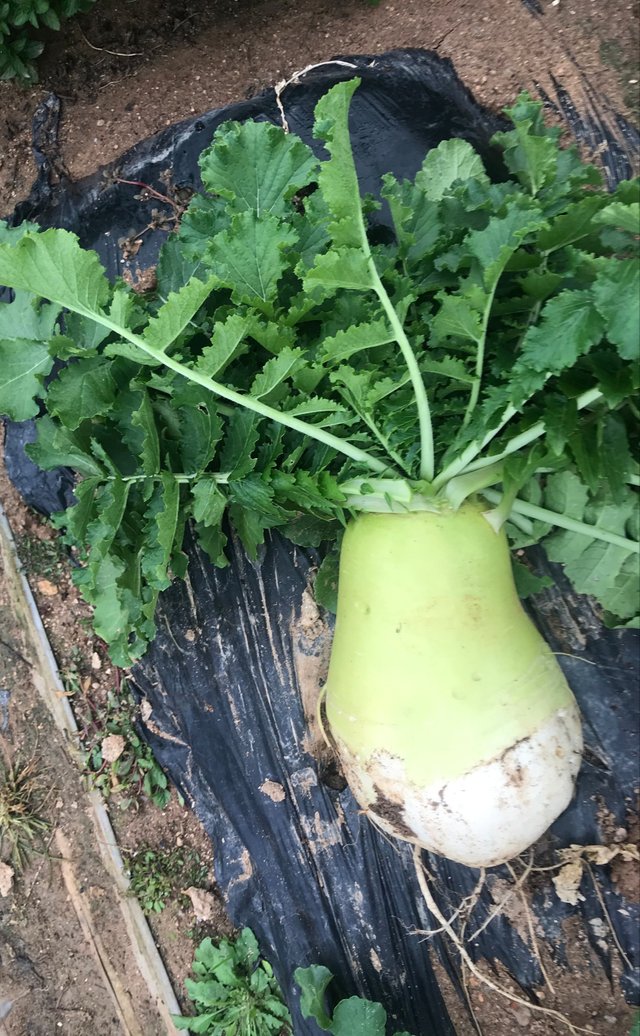 Here is the monster just after I pulled him out....hello big guy!
Fortunately, he came up looking great. You never know, the underground part can be disfigured.
**I boasted I could get one as big as a football **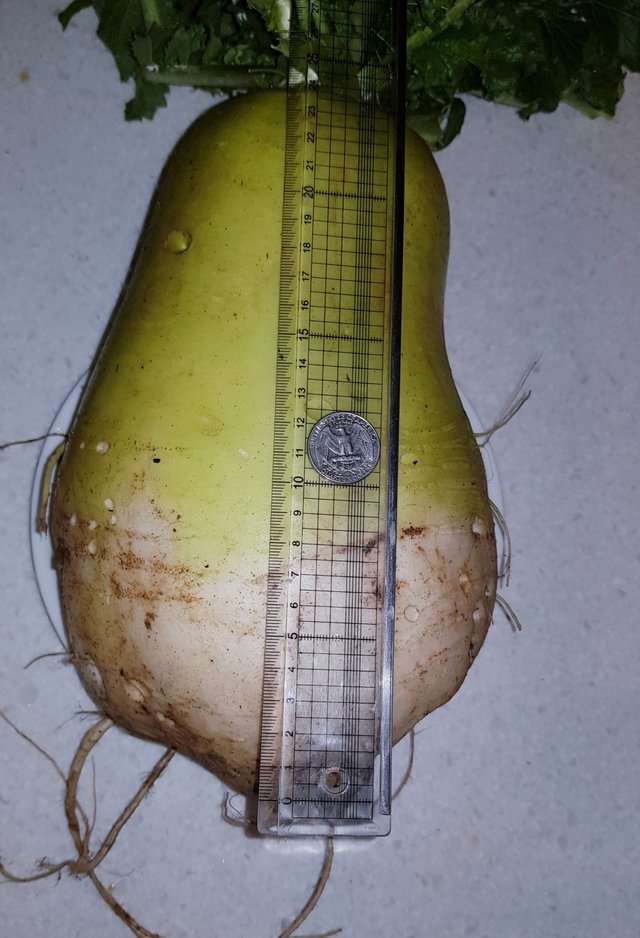 26cm long, 16cm wide, 51cm around, 3.9kg
So how big is he?
Well according to my measurements he was around 26cm long (not including leaves)
He was around 16cm wide.
His girth was around 51cm at the ground level where he turns from green to white.
He weighed in at a whopping 3.9kg after I pruned the leaves.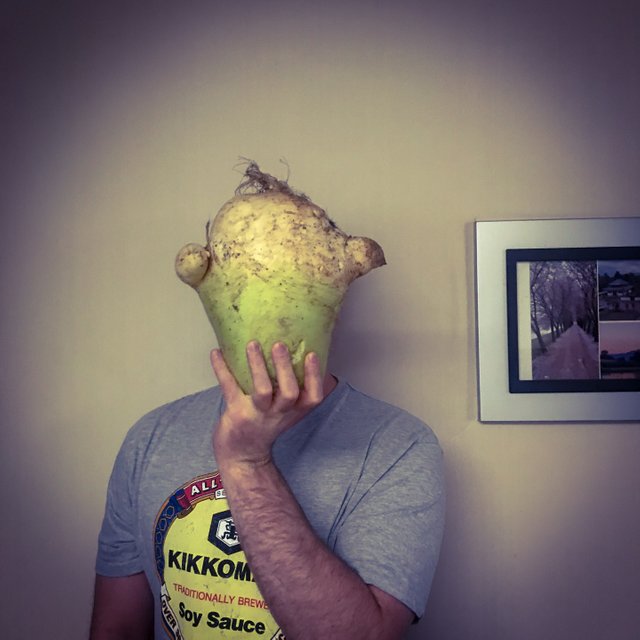 This one may actually be larger but it was a funny shape. It is It's bigger than my head!
Is he as big as a football?
Well, an NFL/CFL game ball (same size since 2017) is a little longer and wider (11"/28cm X 7"/18cm), but that is the extreme measurement. If I measured my radish like this, it would be large. Also, my radish is more robust being less pointy at the end. I didn't have a football to place side by side, but the radish definitely has more volume and wins the day.
I'll make radish kimchi with him soon.
I will use a few of the others for various recipes. I will sell the other radishes and maybe give a few to my family.
Giant Cabbages
Koreans call napa cabbage 'baechu' (배추). It's mostly grown in the fall for kimchi. Koreans take kimchi seriously.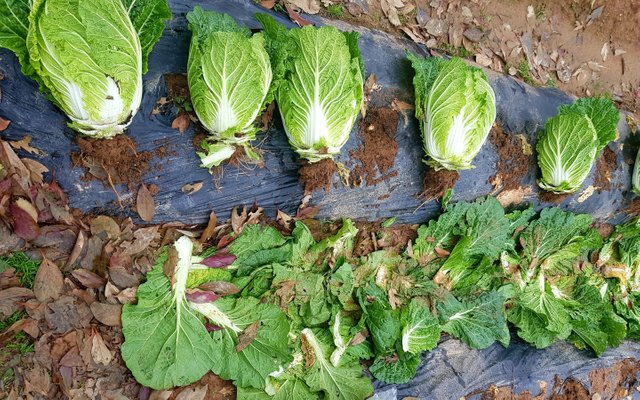 This is just some of my harvest after I riped off the damaged outer leaves, but before cutting the roots off.
I can now rest easy knowing that my kimjang will be saved.
In case you don't know kimjang (김장) is the art of kimchi-making with your extended family or village and is UNESCO protected intangible heritage.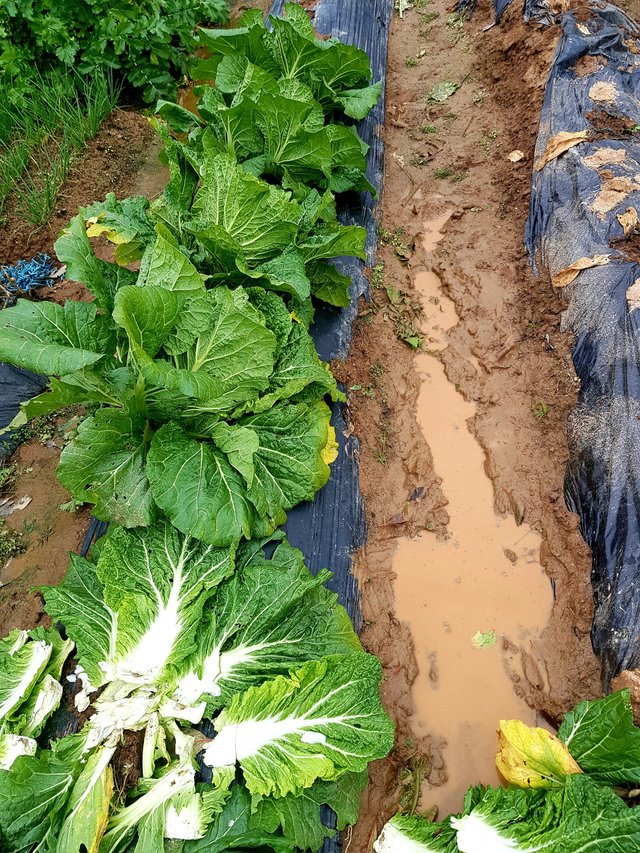 This is what the big ones looked like with the outer leaves still attached just after I uprooted them. The outer leaves spread out and make the plant look like a small bush.
So how big is my cabbage?
I boasted it was larger than a basketball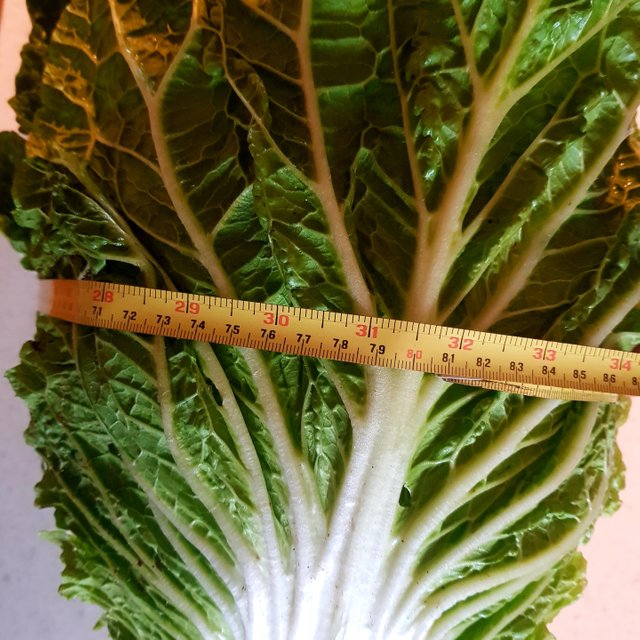 L30cm x W25cm x 81cm around x 3.6kg ~ This napa cabbage has a 32inch waist which is fatter than a lot of people.
The length of this cabbage is around 30cm. I didn't cheat and straighten out the leaves. I stopped where most of them stopped. I could claim 35.
This cabbage is at least 24cm wide. I did a decent job to squeeze it.
The cabbage is 81 cm or 32 inches around. That's a men's large pair of pants in Korea. I'm jealous and cannot squeeze well into this size.
The cabbage weights around 3.6kg!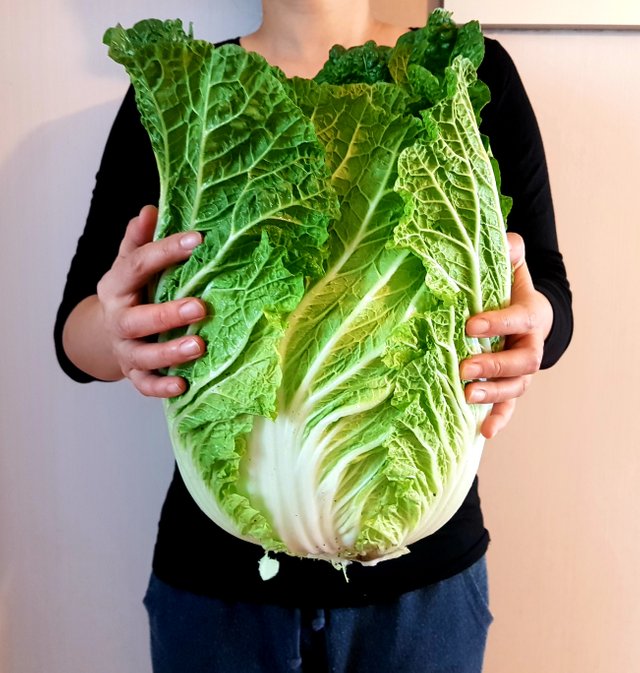 Here is wife hiding behind the cabbage. It's wider than her.
Is it bigger than a basketball?
The cabbage is definitely much larger than a basketball by every measure. An NBA basketball is about 9.5"/24cm in diameter which was the same as my cabbage when pruned and squeezed at a narrow point.
I cannot wait to make kimchi with this cabbage.
I will use my special recipe for this. My other cabbages are going to be given to my family for kimjang. They will feel special to not have to buy cabbage.
I will be the saviour of kimjang2019!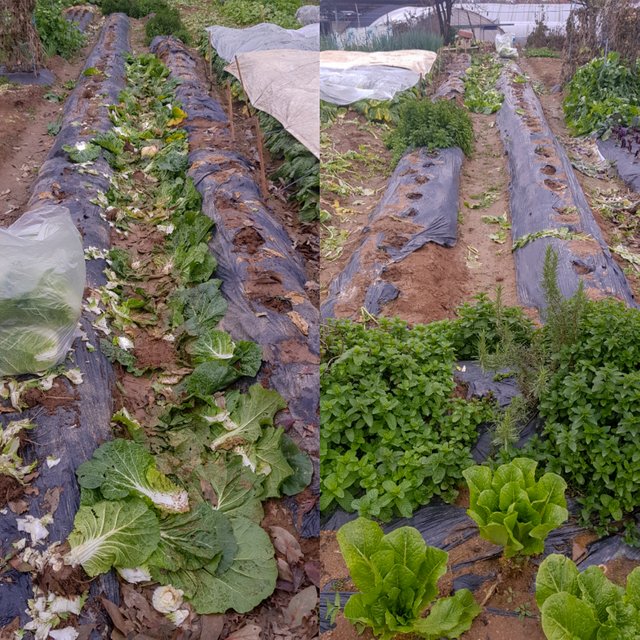 EDIT: I am going to consider this my Garden Journal for November 2019. So above are my rows as they looked at the end of November 2019 just after harvesting the cabbages (the radishes were harvested 1 week earlier)