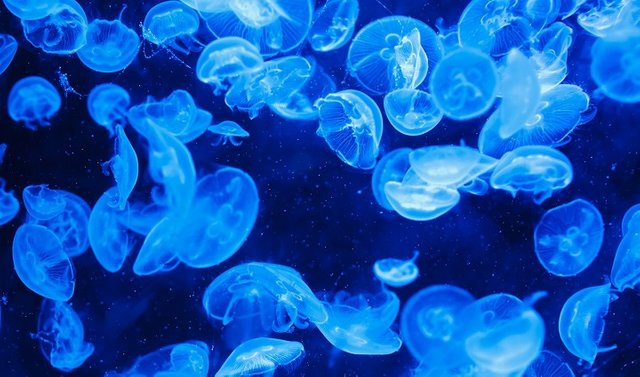 OK, when I first started looking into the eating jellyfish thing I didn't realize what I was in for. I remember as a young kids walking along the shores and popping the jellyfish that had dried up on the beach. I've been stung while swimming but I never considered eating them.
Well it might be time to reconsider Jellyfish. With the warming oceans Jellyfish blooms are on the rise. The number of blooms is causing havoc with power plants, fish stocks and the fishing industries.
There is an overabundance of jellyfish in the oceans today. There are roughly 25 to 30 species of jellyfish that are edible and they've been consumed in many Asian countries for centuries.
So what about North America or Europe. It seemed ironic that I found out jellyfish from the state of Georgia was processed and ship from the U.S, to Japan, China and Thailand. Yet it isn't common to see it on the menu in North America.
But does it taste good? I've read that it has a slightly salty taste and chewy consistency, depending on how it's prepared. There's even a Japanese company, Tango Jersey Dairy, that produces a vanilla and jellyfish ice cream. How about a glow-in-the-dark jellyfish ice cream that uses calcium activated proteins that react when they are agitated.
Jellyfish are roughly 5% protein (6g per 100g) and according to a fairly recent study they seem to be eaten by more marine predators than we had previously thought. And may be more important as a food source.
A Paradigm Shift in the Trophic Importance of Jellyfish?
Scientists are reconsidering the jellyfish as its impact on our environment becomes more severe and they become more abundant.
Would you consider eating Jellyfish on a regular basis as an additional protein source?
Related:
Jellyfish as a food
Jellyfish swarm kills 300,000 salmon at Uist fish farm
images: pixabay.com