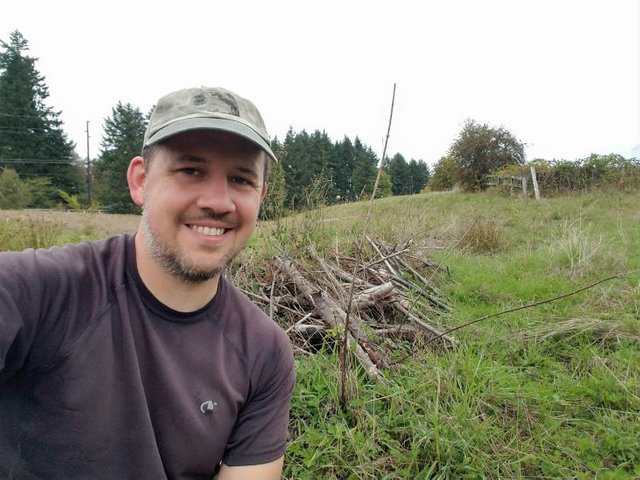 If you follow my posts on here and on my site then you know I'm all about mimicking nature to grow food and build a natural life. This weekend I'm checking in with you all while taking a break in my weekend work after improving a beaver dam.
Improving a beaver dam? Wait what? Won't the beavers just take care of their dam?
Well in this case I'm afraid to say that I'm the beaver. Yup, I built this dam last fall (2018) to mimic a natural beaver dam!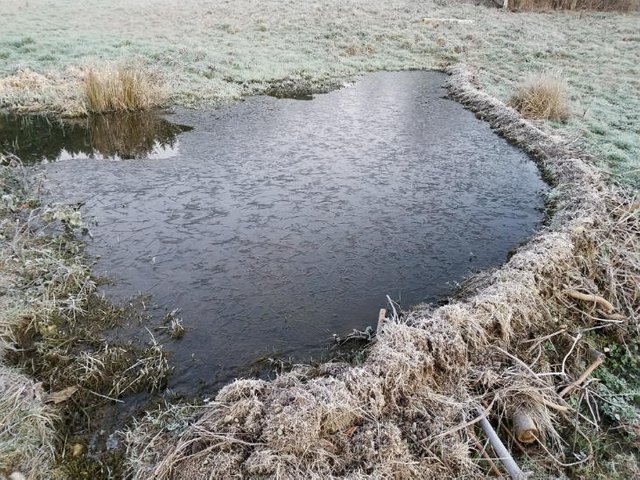 And it worked! Well sort of...
As you can see in that picture I took last winter the dam held water and made a nice pond--the wild ducks and geese liked it a lot! But the dam was a bit too leaky and the pond dried up far too early for my liking.
So this year over the summer when water levels were low I made sure to observe a number of natural beaver dams. The ones made by the real experts--actual beavers!
What I noticed is that they all had a good amount of earth built up on the upstream side of the dams. It really seemed like the sticks were there to protect and anchor the face of the dam. But the majority of the dam was made up of earth and vegetation.
So I decided to improve my dam based on the observations I made over the summer of actual beaver dams.
Of course the beavers can work when the pond is full while I had to wait for the right moment when the soil was not rock hard due to the summer heat but before the pond had started to fill back up.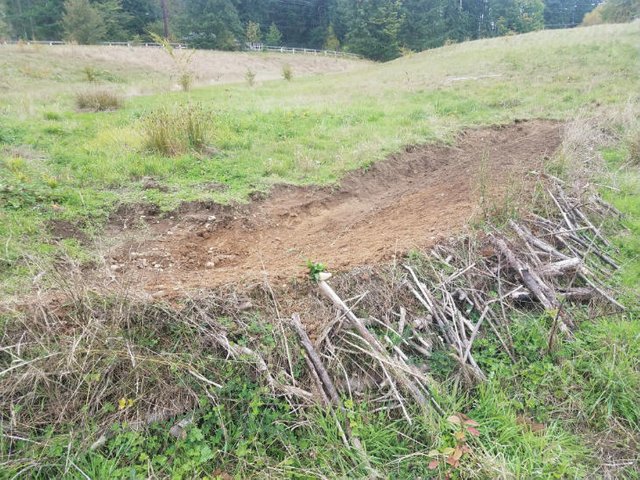 After a couple small rain storms this weekend was perfect for me to get to work on improving the dam.
Now the dam is a good 3-4 times thicker than it was last winter. I also expanded the deep part of the pond through the excavating of the soil and vegetation to add to the back of the beaver dam.
Now I just have to wait for the rains to return and the pond to fill up once again. Hopefully it will now hold water well enough to provide habitat for frogs and their tadpoles come spring.
This pond was built with just a shovel and a wheelbarrow. Plus me jumping up and down on the soil to pack it all in. My 2 and a half year old son loved helping with that part!
Overtime I will use similar techniques to build additional ponds (plus some small waterfalls and some swales) upstream of this pond. I also have plans to expand this existing one by further digging out the area upstream of it and building a small island in the middle of the pond.
But that work will have to wait till next year. Just too many existing projects.
Downstream from the pond I have a small willow grove that is growing and doing great. Further downstream off my property the seasonal stream that flows into and out of my pond empties into a very large pond and surrounding wetland.
This pond and the future water features are all the start of my efforts to hydrate the land to deal with the droughts that will become worse in a warming world.
The key is to slow the water, spread it, and let it sink into the ground. That is a core way to hydrate the land.
Hope you are having a good weekend and I would love to hear what you're up to! Please share in the comments!
Thank you reading! Now I'm off to deal with some out of control blackberries...
---

Follow me for more posts all about working with nature to grow your own food and build a natural life: @wildhomesteading
And check out my blog - www.wildhomesteading.com for weekly in-depth posts on how to work with nature, grow your own food, and build a wild homestead. When you work with nature, nature works with you.