Hello dear friends and Nature lovers !
Today, I would like to introduce you to a comestible and beneficial plant that I love among many others : this is sorrel ! I particularly appreciate its special taste, a little bitter, sour and astringent at the same time... It is a memory that comes to me from my grandmother's house who grew it in her garden and that I ate without washing, directly at the source ! It is to remember this plant that I love that I wrote this little synthesis for you :)
---
HISTORY
The sorrel is part of the Polygonaceae family (in particular that of buckwheat and rhubarb) and takes its name from the Latin "acidulus", "acid". Thanks to this acidity, it was very popular in the Middle Ages, when people were looking for more sour and bitter flavours. It often accompanied game, crushed and prepared in sauce
But long before being used in cooking, sorrel was used by the Egyptians to treat the liver, stomach and kidneys. As an important source of oxalate, it is also used to remove rust stains or clean silverware.
HEALTH
The presence of this salt makes sorrel contraindicated for people with arthritis and gout. By producing pollen in very large quantities, sorrel can be allergenic. Apart from these disadvantages, it is rich in vitamins and minerals, digestive, healing, diuretic and antioxidant. Sorrel is also a very good source of vitamin C.
Sorrel is also rich in phenolic compounds, a substance with a high antioxidant and anti-inflammatory potential. These phenolic compounds would promote cardiovascular health by maintaining the integrity of vascular tissue.
CULTURE
Sorrel grows (very quickly !) generally in the wild in temperate regions. This plant is known to be very resistant. All non-calcareous and fresh soils are suitable for it. You can harvest its leaves all year round, as you need them but before flowering. Consume them immediately as they fade quickly. Aphids, leaf beetles and sorrel flies are its main parasites.
COOKING
With its acidulous and lemony flavour, it can also be eaten raw in salads. For cooking, do not use a cast iron or aluminium pan because the sorrel is very fragile and blackens if it comes into contact with these metals. Bitterness will develop if it is steamed. Specialities such as sorrel soup and sorrel sauce are very popular in Europe and Russia. I prefer it by far raw to keep all its benefits and freshness!... or as an omelette !
---
I hope you will like this article and want to taste it again or discover this plant !
(The cover photo is a montage made by me :)
Be well !
Peace & Steem On !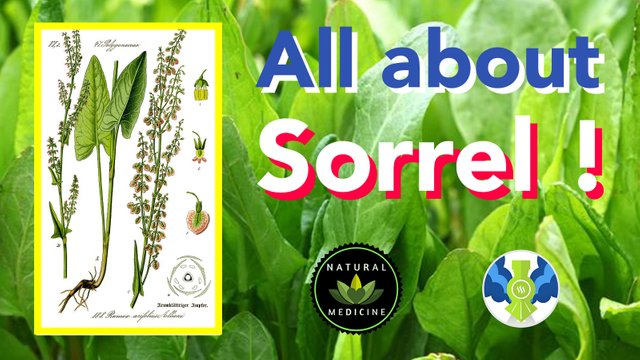 Bonjour chers amis et amoureux de la Nature !
Aujourd'hui, je voudrais vous présenter une plante comestible et bénéfique que j'adore parmi tant d'autres : l'oseille ! J'apprécie particulièrement son goût spéciale, un peu amer, acide et astringent à la fois.. C'est un souvenir qui me vient de ma chez ma grand-mère qui en faisait pousser dans son jardin et que je mangeait sans rinçage, directement à la source ! C'est pour remettre en mémoire cette plante que j'adore que je vous ai rédigé cette petite synthèse :)
---
HISTOIRE
L'oseille fait partie de la famille des Polygonacées (celle notamment du sarrasin et de la rhubarbe) et tient son nom du latin "acidulus", "acide". Grâce à cette acidité, elle fut très populaire au Moyen-âge, époque à laquelle on cherchait des saveurs davantage aigres et amères. Elle accompagnait souvent le gibier, broyée et préparée en sauce
Mais bien avant d'être utilisée en cuisine, l'oseille fut utilisée par les Egyptiens pour soigner le foie, l'estomac et les reins. Étant une source importante d'oxalate, elle sers aussi à enlever les tâches de rouille ou à nettoyer l'argenterie.
SANTÉ
La présence de ce sel fait que l'oseille est contre-indiquée aux individus souffrant d'arthrite et de goutte. En produisant du pollen en très grande quantité, l'oseille peut s'avérer allergisante. Mis à part ces inconvénients, elle est riche en vitamines et en sels minéraux, digestive, cicatrisante, diurétique et anti-oxydante. L'oseille est aussi une très bonne source de vitamine C.
L'oseille est également riches en composés phénoliques, substance ayant un fort potentiel antioxydant et anti-inflammatoires. Ces composés phénoliques favoriseraient la santé cardiovasculaire grâce au maintien de l'intégrité des tissus vasculaires.
CULTURE
L'oseille pousse (très rapidement !) généralement à l'état sauvage dans les régions tempérées. Cette plante est connue pour être très résistante. Tous les terrains non calcaires et frais lui conviennent. Vous pouvez récolter ses feuilles toute l'année, à mesure de vos besoins mais avant la floraison. Consommez-les immédiatement car elles fanent vite. Le puceron, la chrysomèle et la mouche de l'oseille en sont ses principaux parasites.
CUISINE
Avec sa saveur acidulée et citronnée, elle peut également se consommer crue dans les salades. Pour la cuisson, il ne faut pas utiliser de casserole en fonte ou en aluminium car l'oseille étant très fragile, noircit en cas de contact avec ces métaux. L'amertume se développera si elle est cuite à la vapeur. Les spécialités comme le potage à l'oseille et la sauce à l'oseille sont très populaire en Europe et en Russie. Je la préfère personnellement de loin crue pour garder tous ses bienfaits et sa fraîcheur !.. ou alors en omelette !
---
J'espère que cet article vous plaira et vous donnera envie de goûter à nouveau ou de découvrir cette plante !
(La photo de couverture est un montage réalisé par mes soins :)
Portez vous bien !
Peace & Steem On !