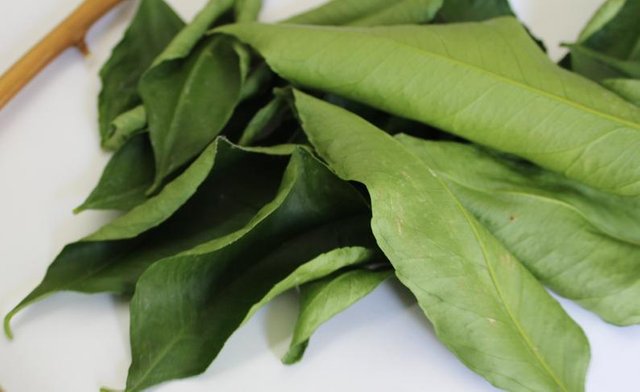 Organically grown whole or crumbled (broken up) lemon leaves. Available either fresh or dried.
Sample Size of High Quality leaves : 3-4 whole leaves or 2"x3" bag full of crumbled leaf
Etsy : https://www.etsy.com/listing/715677922/sample-organic-loose-lemon-leaves-fresh
eCrater : https://odditiesandends.ecrater.com/p/34288317/sample-organic-lemon-leaves-dried
Lemon leaf is excellent for use as incense, as an herbal tea or added to other teas or drinks, garnish, seasoning, for cosmetic (skin and hair) purposes, and as a natural fragrance.
Lemon leaves have been used in the culinary arts, as a medicinal herb, and magical herb for centuries.
Leaves can be burned as smudge incense or broken up and added to the top of charcoal.
Lemon leaves are very high in vitamin C, vitamin P, is believed to boost the immune system and can be easily used as a tasty herbal tea.
Dried leaves make a good additional to home decor or potpourri or garlands.
Freshly dried leaves shown.
Free shipping on all orders $35+ (Etsy US only)!
We ship globally.
Culinary uses include :
-Lemon leaves are wrapped around seafood and meats and then roasted, steamed, or grilled to give an additional touch of flavour and freshness
-Lemon Leaves flavour kebabs
-Lemon Leaves are used in several curries to give that refreshing finish
-Lemon leaves are used to blanch vegetables for stews
-Lemon leaves are infused with tea to give a touch of freshness
-Lemon leaves are used for garnishing desserts such as lemon cakes
-Lemon Leaves are also used as a mould for making chocolate leaves
-Lemon leaves go also help in storing fresh seafood such as oysters and fresh anchovy fillets, apart from pork and chicken for storing them fresh in the refrigerator
Alleged skin benefits include :
Using lemon leaves extracts as lemon balm and applying it to protect the skin from environmental stressors.
This lemon balm or lemon tree extract is used as a natural cleanser and has thus been used in various beauty products along with other ingredients such as Aloe Vera and Mint to give that -natural cleansing and refreshing feeling to the user.
Lemon leaves extract is also used for calming the senses and thus is used in various beauty products to give that soothing and calming effect such as skin creams.
Lemon tree extracts are also used in bug repellant creams used on the human skin to protect it from bugs such as bees, butterflies, and mosquitoes
Lemon tree extract or lemon balm is also used in bathing bars and toiletries to give that refreshing fresh feeling after the bath.
Lemon tree extract, especially lemon leaves extract, are beneficial for skin problems such as acne and pimples
Lemon leaves extract are also used for lightening scars and other marks on the body.
Lemon extracts are used in face packs such as multani mitti face packs to give that brightening look.
Lemon leaves extracts are also used to give that fairer look while improving the skin tone from within.
Lemon extracts with water and frozen into ice cubes act as natural hydrators for skin which not only refreshes the skin but also enhances the complexion and helps it grow.
Lemon and lemon extracts also work wonders in soothing any area where skin problems such as itching, eczema, and burning sensation is experienced.
Lemon juice or lemon leaves extracts when mixed with holy basil and dried in sun till it becomes thick can help in treating pimples and acnes.
Lemon juice and lemon leaves extracts with egg white also make a good face mask which can help in bringing the glow back on to the face.
Lemon leaves extract and lemon juices are also effective in treating insect bites.
Lemon juice or lemon leaves extract when applied on the face overnight for at least a week can cause a significant difference in improving the skin tone.
Magical uses :
cleansing
lunar celebration
ritual bath water
cleansing water for the home
love magic (usually the flowers, but the leaf can also be used)
fragrance for love oil or perfumes
Available sizes/quantities:
Sample Packet, 3-4 whole leaves or 2"x3" bag full of crumbled leaf
1 oz
2 oz
5 oz
16 oz bag preorder available but may take up to 30 days to process.
Always speak to a doctor before using anything medicinally.
All sales final. No cancellations. Colors may vary slightly due to computer screen, lighting, natural variations, etc.
If you need an order rushed please let us know ahead of time.
All of our herbs are hand picked and hand processed, slowly and with great care to insure a quality product.