Hello dear Steemians !
How are you doing ?
For more than three weeks and despite the announcements of a total mobilization, the fires that are setting fire to the Amazon rainforest have continued to advance ! This forest alone produces more than 20% of the world's annual oxygen, which is an irreparable loss from a climatic, ecological and social point of view for all the tribes that have always lived in these forests. The main cause put forward is clearly the massive deforestation of these forests !
In addition to this, farmers will undoubtedly try to take over new land at the end of the fires, to plant more and more oil palm trees and other genetically modified soybeans... this makes me very sad !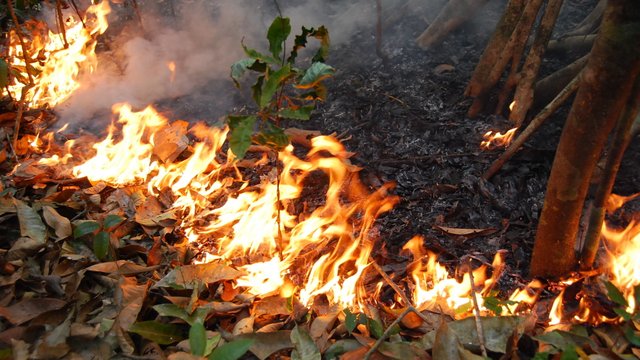 SOURCE
What can we do concretely to counterbalance the terrible effects of these fires, the loss of oxygen from trees and the additional emission of thousands of tonnes of carbon dioxide ?
The world is more and more aware of ecological disasters but too few really get moving.. or not enough ! Stop thinking about your comfort only and broaden your consciousness in the long term ! Take action against pollution on your own scale, consume less and better, plant trees and vegetables if you have some land !
Personally, I will try to plant bamboos (which produce 30% more oxygen than trees) when I return and will continue my "urban guerrilla" by planting seeds everywhere :-)
What else do you think about ? There are plenty of other solutions/opportunities !
Your best suggestions (or evidence of your investment in ecology and sustainable development) in the form of an article mentioning this article will be rewarded with 3 SBI shares and 3 STEEM :-)
Also mention the link of your article in the comments so that none are missed !
Be well, Peace and Steem On !
---
Bonjour chers Steemians !
Comment allez-vous ?
Depuis plus de trois semaines et malgré les annonces d'une mobilisation totale, les feux qui embrasent la forêt vierge amazonienne continuent d'avancer ! Cette forêt à elle seule produit plus de 20% de l'oxygène mondial annuel, c'est une perte irreparable au point de vue climatique, écologique et sociale pour toutes les tribus vivants depuis toujours dans ces forêts. La cause principale avancée est clairement celui de la déforestation massive de ces forêts !
En plus de cela, les paysans vont sans aucun doute tenter de s'approprier de nouvelles terres à la fin des incendies, pour planter toujours plus de palmiers à huile et autres soja génétiquement modifiés... cela me rend très triste !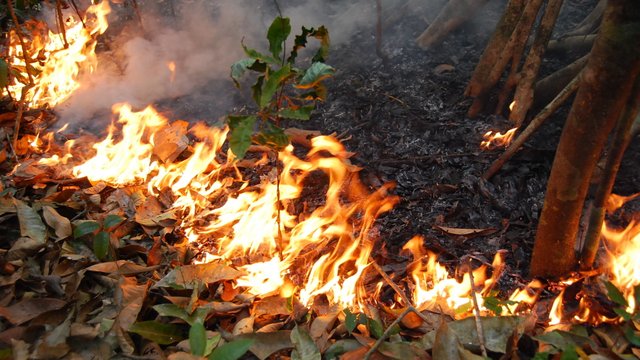 SOURCE
Que pouvons nous faire concrètement pour contrebalancer les effets terribles de ces feux, la perte de l'oxygène émis par les arbres ainsi que l'émission supplémentaire de milliers de tonnes de dioxyde de carbone ?
Le monde est de plus en plus conscient des désastres écologiques mais trop peu se mettent réellement en mouvement ! Arrêtez de pensez à vôtre confort seulement et élargissez vôtre conscience sur le long terme ! Agissez contre la pollution à vôtre seule échelle, consommez moins et mieux, plantez des arbres et des légumes si vous avez du terrain !
Personnellement, je vais essayer de planter des bambous (qui produisent 30% d'oxygène de plus que les arbres) à mon retour et continuerai ma "guérilla urbaine" en semant des graines :-)
À quoi pensez vous d'autres ? Il y a plein d'autres solutions/possibilités !
Vos meilleures suggestions (ou preuves de vôtre investissement dans l'écologie et le développement durable) formulées sous la forme d'un article et mentionnant cet article seront récompensées par 3 parts SBI et 3 STEEM :-)
Mentionnez aussi le lien de vôtre article dans les commentaires pour qu'aucun ne sois manqué !
Portez-vous bien, Peace et Steem On !