Buenos días queridos amigos. Muchas gracias por la compañía y el apoyo que nos brindan a diario. Estamos muy felices con lo que está sucediendo en nuestra huerta, estamos sembrando mucha más variedades de hortalizas de la que teníamos pensado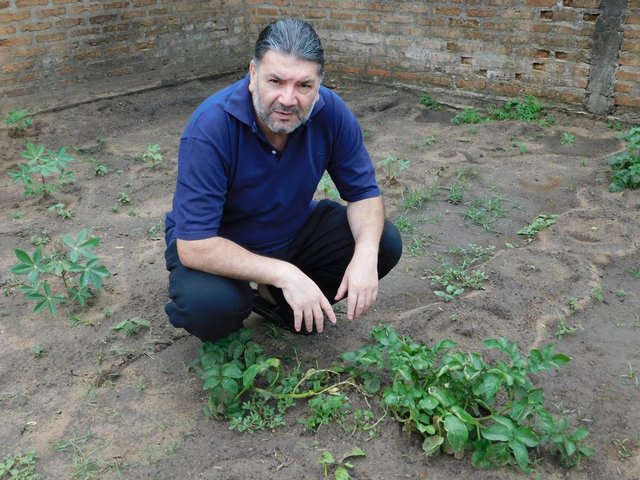 En el video de hoy les quiero enseñar cómo hacemos la siembra del pimiento morrón. Esta es una hortaliza muy utilizada en las recetas de cocina, lo hacen por el exquisito sabor que aporta a las comidas, además, su siembra es bastante sencilla.
Fuente: Álbum Familiar
El primer paso que debemos hacer es preparar nuestra semilla, para ello se corta la fruta y se extrae todas las semillas, luego las dejamos secar, una vez que las semillas se hayan secado, estamos en condiciones de iniciar la siembra. La siembra del morrón no requiere mucho espacio, es una planta que nos permite sembrar en cualquier parte o espacio, puede ser un recipiente, maceta, cubeta. Etc.
En nuestro caso vamos a sembrar directo en el almacigo. Las semillas del morrón ¨germinan¨ en tierra caliente, a una temperatura mayor a los veinticinco o treinta grados, necesita estar todo el día expuesto al sol. Fue lo que motivo para elegir sembrar directo en el almacigo.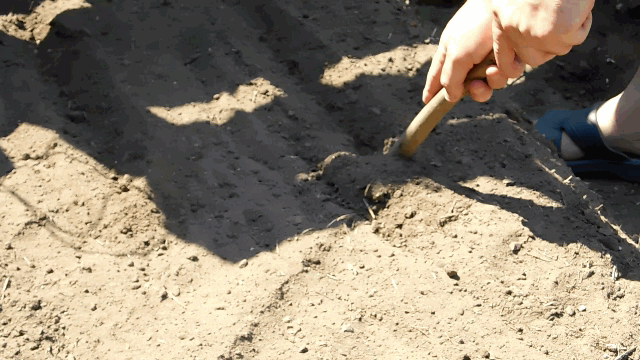 Las semillas de esta planta no son muy exigentes, pero aun así hay que tener en cuenta algunas cosas, la tierra tiene que ser floja y abonada, se puede nutrir el suelo con los tres preparados caseros que hemos visto y si es posible, agregar excremento de animales.
Fuente: Álbum Familiar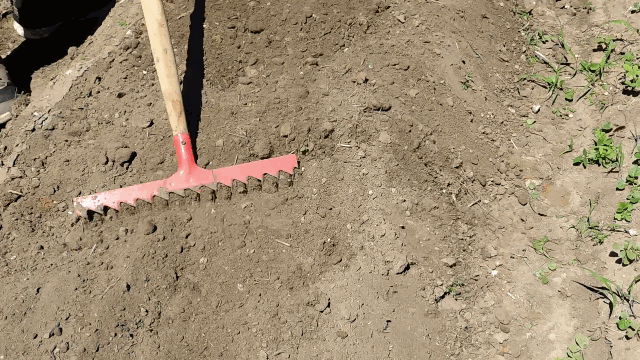 Una vez preparado el almacigo y adecuada la tierra, podemos comenzar la siembra, para ello preparamos un curco o liño en la tierra, ahí serán depositadas nuestras semillas con una separación mayor a 10 centímetros entre cada planta y mayor a treinta centímetros entre cada líneas.
Fuente: Álbum Familiar
En cada posición pueden ubicar hasta tres semillas, eso lo hacemos por si algunas de ellas fallan en la ¨germinación¨, lo mejor que nos puede suceder es que todas las semillas funcionen y tengamos que trasplantar, para hacerlo debemos esperar que la planta contenga a menos cuatro hojas.
Una vez ubicada nuestras semillas en el curco, estamos en condiciones de tapar con tierra el liño que hemos creado. Para finalizar haremos un riego abundante, si es posible con agua de lluvia, esta son mejores para nuestras plantas.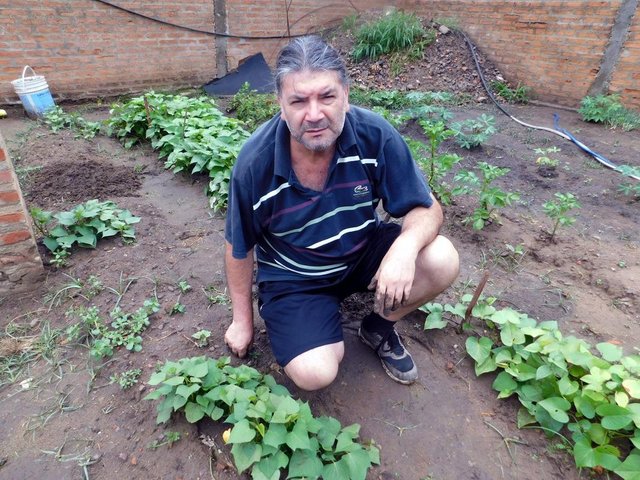 Si el lugar en donde viven el clima es frio, es conveniente no practicar la siembra, es casi seguro que la semilla no ¨germinara¨. Recuerden que el lugar que escojan para sembrar, el agua debe drenar muy bien, si bien le gusta el agua, no quiere estar sumergida en ella, el sol debe dar la mayor parte del día, ya que germina con altas temperatura. Si todo va bien, en quince días comenzaran a ver las primeras plantas.
Fuente: Álbum Familiar
Espero que estas pequeñas cosas que transmitimos a diario, sean de su agrado y de mucha utilizada. Como siempre muy agradecido con el apoyo que nos brindan, en una motivación enorme y la razón para ir incorporando nuevas plantas a nuestra huerta.
Good morning dear friends. Thank you very much for the company and the support you give us daily. We are very happy with what is happening in our garden, we are planting much more varieties of vegetables than we had thought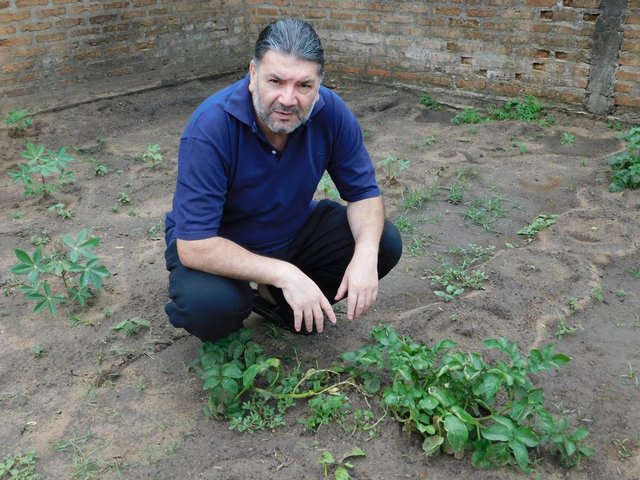 In today's video I want to show you how we sow the bell pepper. This is a vegetable widely used in cooking recipes, they do it for the exquisite flavor that it brings to meals, in addition, its planting is quite simple.
Source: Family Album
The first step we must take is to prepare our seed, for this the fruit is cut and all the seeds are extracted, then we let them dry, once the seeds have dried, we are able to start planting. The sowing of the bell pepper does not require much space, it is a plant that allows us to sow anywhere or space, it can be a container, pot, bucket. Etc.
In our case we are going to sow directly in the almacigo. The seeds of the ¨germinan¨ in hot soil, at a temperature greater than twenty-five or thirty degrees, need to be exposed to the sun all day. That was the reason for choosing to plant directly in the warehouse.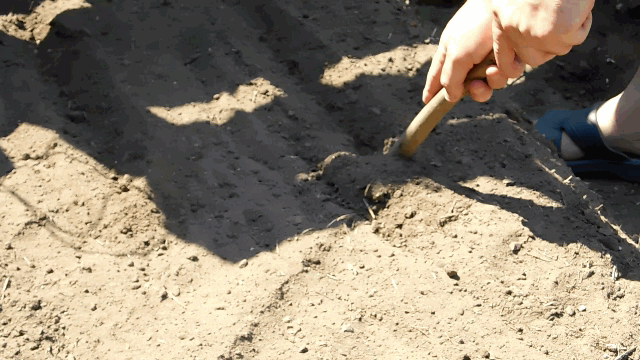 The seeds of this plant are not very demanding, but still some things have to be taken into account, the soil has to be loose and fertilized, the soil can be nourished with the three homemade preparations we have seen and if possible, add excrement of animals.
Source: Family Album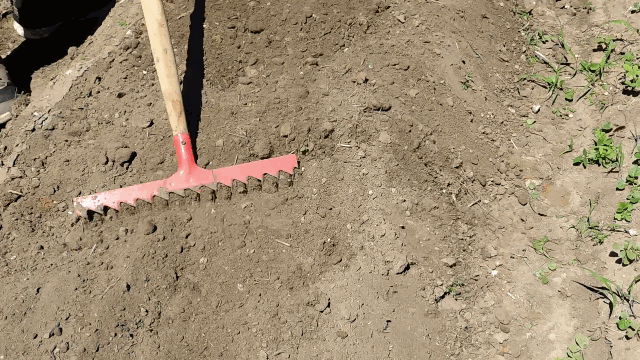 Once prepared the almacigo and adequate the earth, we can begin the sowing, for this we prepare a curco or mess in the earth, there our seeds will be deposited with a separation greater than 10 centimeters between each plant and greater than thirty centimeters between each lines.
Source: Family Album
In each position they can locate up to three seeds, we do that in case some of them fail in the "germination", the best thing that can happen to us is that all the seeds work and we have to transplant, to do so we must wait for the plant to contain minus four sheets.
Once our seeds are located in the curco, we are able to cover with earth the mess we have created. To finish we will do an abundant irrigation, if possible with rainwater, these are better for our plants.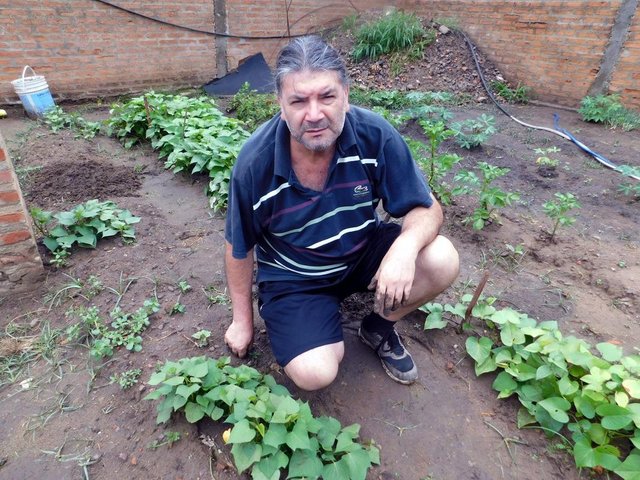 If the place where the climate lives is cold, it is convenient not to practice planting, it is almost certain that the seed will not "germinate". Remember that the place you choose to sow, the water must drain very well, although it likes the water, it does not want to be submerged in it, the sun must give most of the day, since it germinates with high temperature. If all goes well, in fifteen days they will begin to see the first plants.
Source: Family Album
I hope that these little things that we transmit daily, are to your liking and much used. As always, very grateful for the support they give us, in a huge motivation and the reason for incorporating new plants into our garden.



---
▶️ DTube
▶️ YouTube