Buenas tardes queridos amigos. Aprecio de todo corazón el gran apoyo que brindan a mis publicaciones diarias de nuestro trabajo de siembra tradicional o ¨orgánica¨. Es lo que nos motiva a incorporar productos a nuestra huerta y compartir con ustedes nuestros pequeños conocimientos.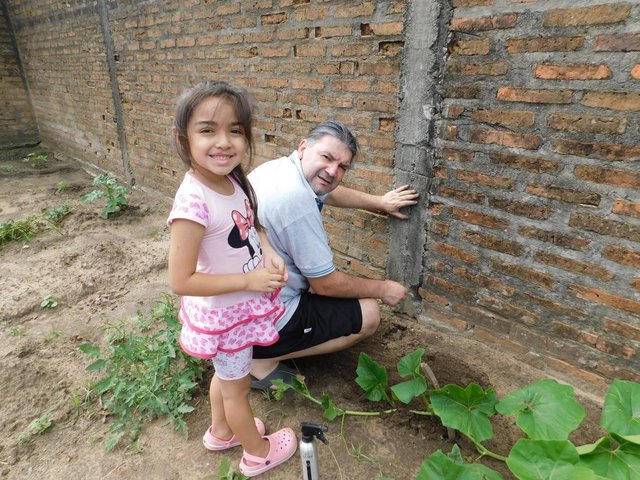 Una hortaliza que no podía faltar en nuestra huerta era el maíz, una planta que no demanda mucho espacio físico para sembrar, no es muy exigente, aporta muchos beneficios para nuestro organismo y muy requerido en las recetas culinarias.
Fuente: Álbum Familiar
En el video de hoy veremos paso a paso como hacemos en esta zona del mundo la siembra de esta noble planta. Como les dije, es una planta muy simple de sembrar, no requiere mucho cuidado, aun así, hay algunos secretos que debes conocer.
El éxito de la siembra comienza con la selección de los granos, para ello nos valemos de un control visual y el tacto. Tenemos que seleccionar aquellos granos que estén en óptimas condiciones, no deben estar golpeados, partidos o con manchas blancas.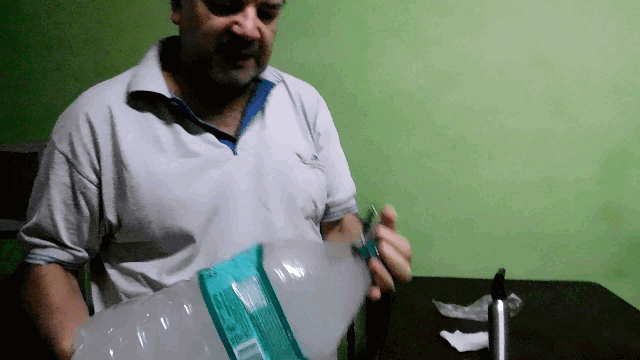 Otra cosa que debes saber, al inicio de la siembra las semillas están expuestas a distintos organismos, una manera de ayudarlas es haciendo un baño de ¨repelente¨ o ¨insecticida¨, en este caso, puedes utilizar nuestro preparado casero a base de ajo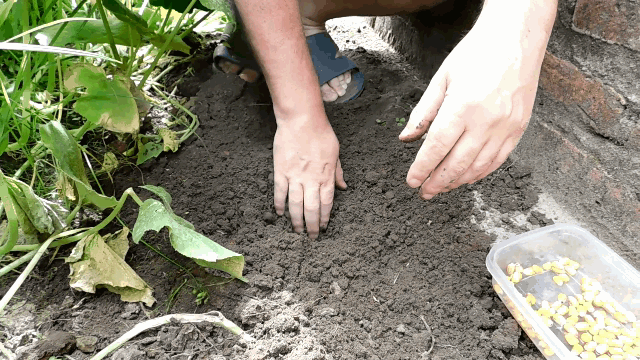 La protección es muy sencilla, rociamos nuestro preparado casero sobre las semillas y las dejamos reposar un rato, antes de sembrar, regamos la tierra con el repelente, con estos sencillos pasos las semillas ya están protegidas.
Fuente: Álbum Familiar
El terreno en donde vamos a sembrar tiene que estar trabajado, y nutrido, pueden hacerlo con los tres preparados casero principales que hemos visto en lo videos y si disponen de excremento de animales mucho mejor. Las raíces prefieren una tierra blanda, además sirve para que el agua drene. El pasto no ayuda a su crecimiento, hay que mantener el espacio siempre libre de malezas.
Una vez que hayamos acondicionado el terreno estamos listos para sembrar. Con la ayuda de una azada hacemos unos orificios de unos tres centímetros de profundidad, incorporamos la semilla y cubrimos con tierra. Recordemos dejar veinticinco centímetros libres entre cada planta y setenta centímetros entre cada línea. Las primeras plantitas comenzaran a asomar a partir de los siete días.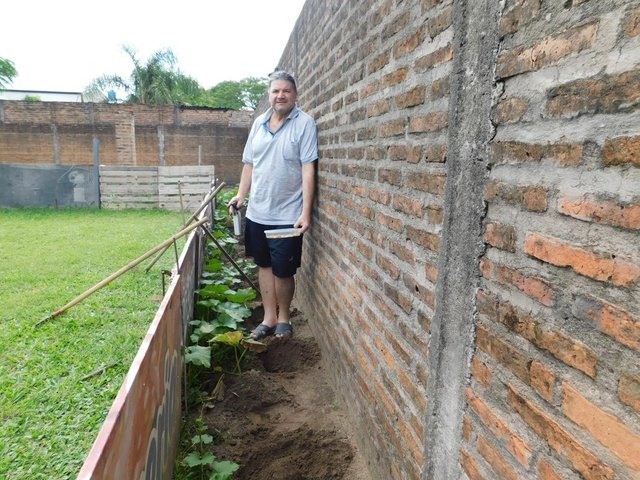 El agua es fundamental para el crecimiento de la planta, hacer riegos constantes y mantener la tierra siempre húmeda, a partir de la séptima semana de siembra, la planta comenzara a desarrollar la ¨mazorca y es ahí donde hay regar con más frecuencia y mantener durante dos semanas.
Fuente: Álbum Familiar
Como pueden leer es una hortaliza muy fácil de sembrar, solo hay que considerar estos pequeños pasos. Espero que estos pequeños secretos hayan sido de su interés y de utilizada en sus siembras. Muchas gracias por el apoyo que nos brindan a diario
Good afternoon dear friends. I appreciate with all my heart the great support they give to my daily publications of our traditional or "organic" planting work. It is what motivates us to incorporate products into our garden and share with you our little knowledge.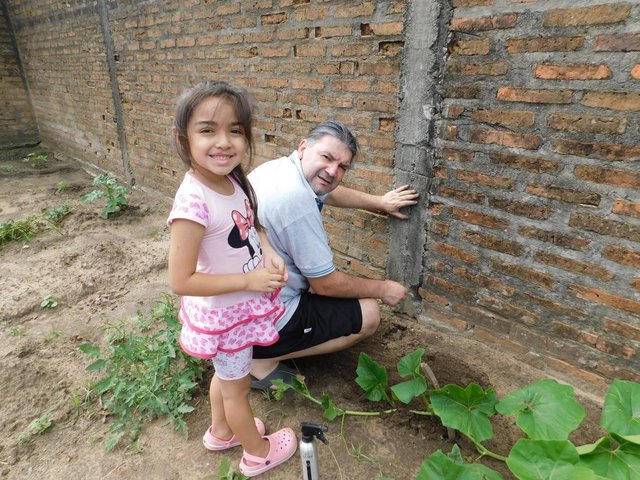 A vegetable that could not be missing in our garden was corn, a plant that does not demand much physical space to sow, it is not very demanding, it brings many benefits to our body and much required in culinary recipes.
Source: Family Album
In today's video we will see step by step how we do in this area of the world planting this noble plant. As I told you, it is a very simple plant to sow, it does not require much care, even so, there are some secrets that you should know.
The success of the planting begins with the selection of the grains, for this we use a visual control and the touch. We have to select those grains that are in optimal conditions, should not be beaten, broken or with white spots.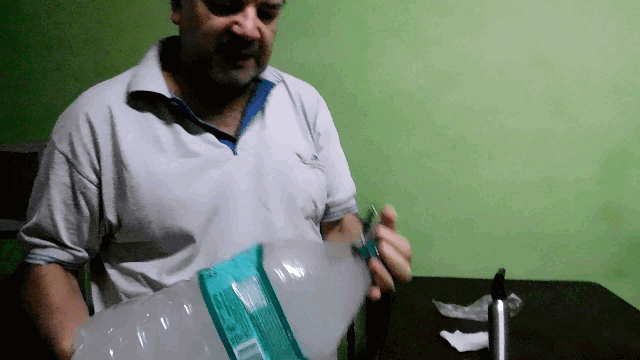 Another thing you should know, at the beginning of planting the seeds are exposed to different organisms, one way to help them is by doing a "repellent" or "insecticide" bath, in this case, you can use our homemade garlic-based preparation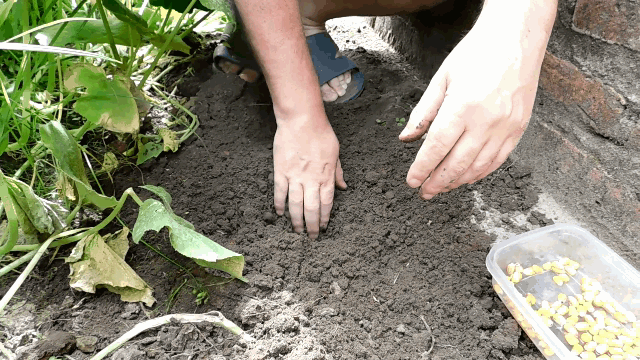 The protection is very simple, we spray our homemade preparation on the seeds and let them rest for a while, before sowing, let's water the soil with the repellent, with these simple steps the seeds are already protected.
Source: Family Album
The land where we are going to sow has to be worked, and nurtured, they can do it with the three main homemade preparations that we have seen in the videos and if they have much better animal excrement. The roots prefer a soft soil, it also serves to drain the water. The grass does not help its growth, we must keep the space always free of weeds.
Once we have conditioned the land we are ready to sow. With the help of a hoe we make holes of about three centimeters deep, we incorporate the seed and cover with soil. Remember to leave twenty-five centimeters free between each plant and seventy centimeters between each line. The first seedlings will start to appear after seven days.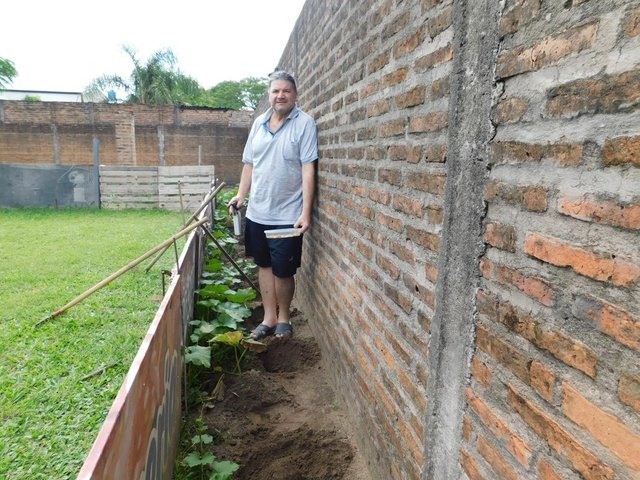 Water is essential for the growth of the plant, make constant watering and keep the soil always moist, from the seventh week of planting, the plant will begin to develop the ¨ cob and it is there where there is more frequent watering and maintenance during two weeks.
Source: Family Album
As you can read it is a very easy plant to sow, you just have to consider these small steps. I hope that these little secrets have been of your interest and used in your plantings. Thank you very much for the support you give us daily



---
▶️ DTube
▶️ YouTube