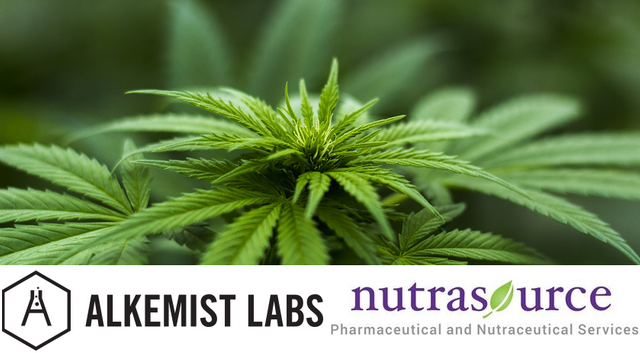 Earlier this summer Alkemist Labs and Nutrasource, both well know in the Natural Products industry, announced the launch of the International Cannabinoid Analysis Program (ICAP). The two are preparing to launch a comprehensive third-party verification program. The program is geared at verifying label claims to support the content of the THC of ingredients and in finished products.
As many consumers are aware, potency and accuracy of THC is hit and miss. The program is built for manufacturers and brands as an aid to help provide consumers a comfort level by providing freely available testing results. ICAP tests cannabis and hemp extracts (and derived products) to ensure they contain less than 0.20% delta-9-tetrahydrocannabinol. This is a limit that has been established within the European regulations; In Canada/US that level is 0.3% tetrahydrocannabinol (THC). Setting the level at 0.20% covers the majority of the major markets around the World.
Alkemist Labs, is a well known contract testing lab that specializes in botanical identity and potency testing for the dietary supplement industry. They were established in 1997 and are located in a new state-of-the-art facility in Garden Grove, California. Alkemist Labs produces a line of Composite Reference Botanicals (CRBs) and distribute phytochemical reference standards.
Accurate testing within the growing market segment has been a primary concern of the US federal regulatory body and evident from comments made at the recent hearing on CBD regulation. Ensuring that the CBD products are free of psychoactive components seems to be the sweet spot for this program.
Nutrasource, is a Canadian contract research organization that helps health product companies bring products to market. They were established in 2002, based out of Guelph, Canada in the hub of the food and agriculture research community. They offer pharmaceutical and nutraceutical services to companies and launched the International Fish Oil Standards (IFOS) Program. In 2016 they launched the International GMO Evaluation and Notification (IGEN) Program in partnership with Whole Foods. They have several similar programs under their belt.
As the number of derived products come into the CBD space having a program in place that helps identify the THC content will be beneficial to both the consumer and manufacturers. As the regulatory landscape is shifting, seemingly on a daily basis, a certification program, such as this, will give consumer the ability to know what they are getting in "edibles" like the gummies, oils and skin products.
The program is slated to launch in September. Currently samples are being accepted for a limited beta-test. Some of the first companies will appear on the Nutrasource certification website along with their test results available to consumers. See the Nutrasource website for details.
References and Links:
Alkemist Labs - https://www.alkemist.com
Nutrasource - http://www.nutrasource.ca
Press Release - https://www.alkemist.com/alkemist-labs-and-nutrasource-collaborate-on-thc-compliance-testing-certification-program/
Canadian Regulations - https://www.canada.ca/en/health-canada/services/drugs-medication/cannabis/laws-regulations/regulations-support-cannabis-act.html
EU Regulation Information - http://www.emcdda.europa.eu/publications/adhoc/cannabis-legislation-europe_en
images:Pixabay, Nutrasource, Alkemist Labs
---
I blogged this from NaturalProducts.Today - Become a supporter
Become a supporter. We're looking for like-minded individuals to help support the #naturalproducts front-end project through delegations. Your delegations will help to support contributors and the further development of the front-end. Your support will also allow us to help ensure that the quality of content is high and consistent with the expectations of the community and industry and that posts are rewarded.
You can use these custom links to delegate Steem to us:
30SP, 50SP, 100SP, 250SP, 500SP, 1000SP
Join us in #naturalproducts on https://www.naturalproducts.today!